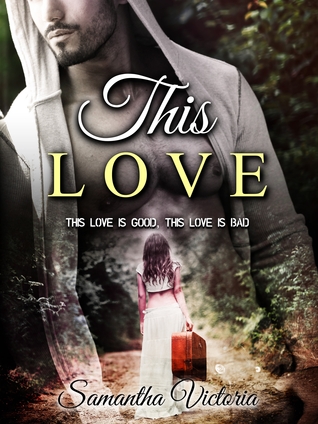 4/5
He takes one of the books that I have cradled in my arms reading the synopsis on the back. "Good-girl meets bad boy," he scoffs. "Typical - What about bad-girl meets bad-boy? Troubled girls need lovin' too."
THIS LOVE
was yet another
addictive
read and it only got more interesting as the story developed.
Cheyenne grew up and lived with an MC type of family and friends which transcended into her learning the tougher side of life, how to defend herself, hot to be by herself and everything that comes with that environment.
Trust. Confidence. Outgoing. Loyalty. Thick skin. Outlaws.
BUT there was also
Misgivings of Betrayal. Crimes. Pain. Worry. Hurt. Mistrust. Using people
and so much more.
Once she moved away to live in an apartment with her best friend, her best friends boyfriend and another guy - Joss - she learns to change to suite her own self and decisions. This doesn't come easy since she was so used to what was
clouding her mind back home
and through all the betrayal, so she found it tough to adjust.
At the same time that she was learning to live on her own, with time, she learnt to appreciate certain aspects that her life growing up taught her...
Her relationship with Tabby - her best friend - was always the sweet, typical type with the undertone and a
strong understanding
in how tough both their lives were. Both Tabby & Cheyenne came from a MC life, but the thing is, Tabby thought that if her boyfriend knew, he would see her in a completely different light. Cheyenne was also keeping that part of her life as a secret because not only did she not want anyone coming after her, but she didn't need anyone judging her based on that. This bond made their friendship so strong from the very beginning, which can often be missing from many romance books I've read before - or books in general.
The author captured the girls good and abd but also minor and major moments in an additively, easy, fun and sad read.
Moving towards the "bad-boy" mentioned at the beginning..
Cheyenne and the ever popular but never boring
tattooed sexy "sweet" mouthed bad boy
, have a relationship that I honestly COULD NOT get enough of! He was:
Sweet.

Sexy.

Caring.

Loving.

Understanding.

Drool Worthy.

Protective.

Jealous.

Possessive.

Aggressive.

Cute Drop dead gorgeous!!
I fell for Joss myself from the moment Shy did too. It was that simple.
He had his very own flaws that nicely developed as his and Cheyenne's relationship grew from the first moment that they met. Yes I know, that sounds like a typical attraction at first sight. And it was. BUT it was written and captured in a way that made it believable, fun to read and again, very addictive. I could have read the entire book in one day, but working life had other plans!
"I know I will never be good enough, Shy. I'm not stupid. I know I don't deserve you, but nobody is good enough to deserve you, no one."
The turning point of Joss was
(view spoiler)
. He screwed up big and I didn't expect that - AT ALL! I knew there would be a plot twist of some sort but I honestly didn't expect something like that.
"A mistake is something you do unknowingly. You knew the promises you were breaking, you knew the danger in what you were doing, and you did it anyway. You didn't make a mistake, you made a stupid fucking CHOICE!"
With Shy not being able to forgive him even through his non-stop continuous attempts to apologise, gave the
real relationship
feel. I fell in love with the story even more at that point.
It wasn't the typical "Sorry, it wont happen again & I love you" followed by "Hmm that's okay, I forgive you".
NO.
In a few words, it was a roller-coaster filled with emotional heartbreaks...
They both had so many choices to choose from, decide and make. But there was always that troubling thought of what choice was worth it. What would be the best option. Why would they choose that. And worst of all? They always knew that whatever choice they made, it would affect one or the other in some way...
"But I love you, Shy. I fucking love you so much, and I will do whatever it takes to be a better man, to be the guy that you deserve, because my heart..." He smacks a hand against the left side of his flame-covered chest, "This fucked up heart, it's yours. It belongs to you...I belong to you."
"This Love"
reminds me of 'Between The Raindrops' by Susan Schussler which was one the very first books that touched my heart. I know that sounds beyond cheesy but its the truth and a rare thing..
Reading this book felt like I was Shy, and everything she was going through, I was experiencing too. That does happen with every well written book, but in this one particular, I just couldn't think of anything else but what went through Shy's troubled mind, her talks and arguments with Joss, the life that she slowly but unintentionally falls in love with the longer she realises that she doesn't want to go back.. and so much more...
One part that made me hesitant about giving it a 5 was just the slightly predictable ending. I mean, so many romance stories have similarities when it comes to how it will be finished off, and this one was no different. BUT that didn't mean that the overall story wasn't worth the typical ending, because saying it was worth it would be an understatement.
I loved the story, the characters, the relationships that were both formed and ended and I absolutely loved the way Good and Bad was captured through such intense but sweet words.
Heartbreakingly & soulfully written".
It's a novel of
pure and realistic love
with that ever
addictive
touch of the sexy bad boy, that never gets boring (if done well).
When I finished the very last word, sadly closing the final page of the book, I smiled but at the same time I did - yes I did - tear up..
This is a:
No bullshit fairytale love story.

No sugar-coating ANYTHING - Raw emotions.

No loving your past mistakes.

Pure, Raw, Addictive, Beautifully created world
, Characters, Story and the Breathtaking tone of what a bad & good love is!
"
This LOVE is Good, this LOVE is Bad."
No more perfect words could describe this book. Sad. Realistic. Heartbreaking. Sexy. Tears. BUT beautiful at the same time.
I am definitely reading this book again, no doubt. So
Thank You
Samantha Victoria for not only providing such a beautiful copy of your book but also for creating something that I could not have been more grateful to read :)
Love it!
<3 xx